We are here to support You during the coronavirus crisis
Dear Clients,
We would like to share some updates regarding the COVID-19 / Coronavirus
May 4, 2020
After almost two months, we have started with normal operational work!
The implementation of safe work practices to limit exposure to COVID-19 at work requires first assessing the risks, and then implementing the hierarchy of controls. This means putting in place control measures to first eliminate the risk and if this is not possible, minimise worker exposure. Start first with collective measures and if necessary supplement them with individual measures, such as personal protective equipment (PPE).
March 29, 2020
This is an unprecedented time in our history. The COVID-19 pandemic is having an impact on the health of our loved ones, the businesses we rely upon, the health of the global economy, and the way we live our daily lives. As we all continue to navigate through these unique and evolving challenges, we want you to know that CROWEB.HOST is here for you.
#fightcoronavirus #stopcoronavirus #datacenter

March 19, 2020
Our Main Office and Data Center are closed for any public access.
We upholding all safety standards recommended by the Croatian Government.
Today, depending on the guidelines issued by governing healthcare authorities, our company is managing local situations in our Data Center.
We are doing this to guarantee our employees' safety, and also guarantee continuity for your services. We urge everyone to follow the recommendations issued by public organisations, as well as both national and international authorities. Simple acts of prevention, such as following personal hygiene precautions, are an effective way of protecting both yourself and others from infection. We should show solidarity and remain vigilant — together, we will work to find solutions for confronting this unprecedented global crisis.
To protect ourselves and other citizens, we took the decision to make everyone work from home (excluding Data Center staff).
Our team is making every effort to support you under the best conditions. As a consequence, we are deploying business continuity plans. Our priority is to ensure a high-quality operational service, which is essential for all of our customers' activity — both for your business, and also on a more strategic, national scale. We intend to apply this worldwide, wherever we have a presence. Our customer support team are also working remotely from home, and will be available to answer support requests as usual.
#fightcoronavirus #stopcoronavirus #datacenter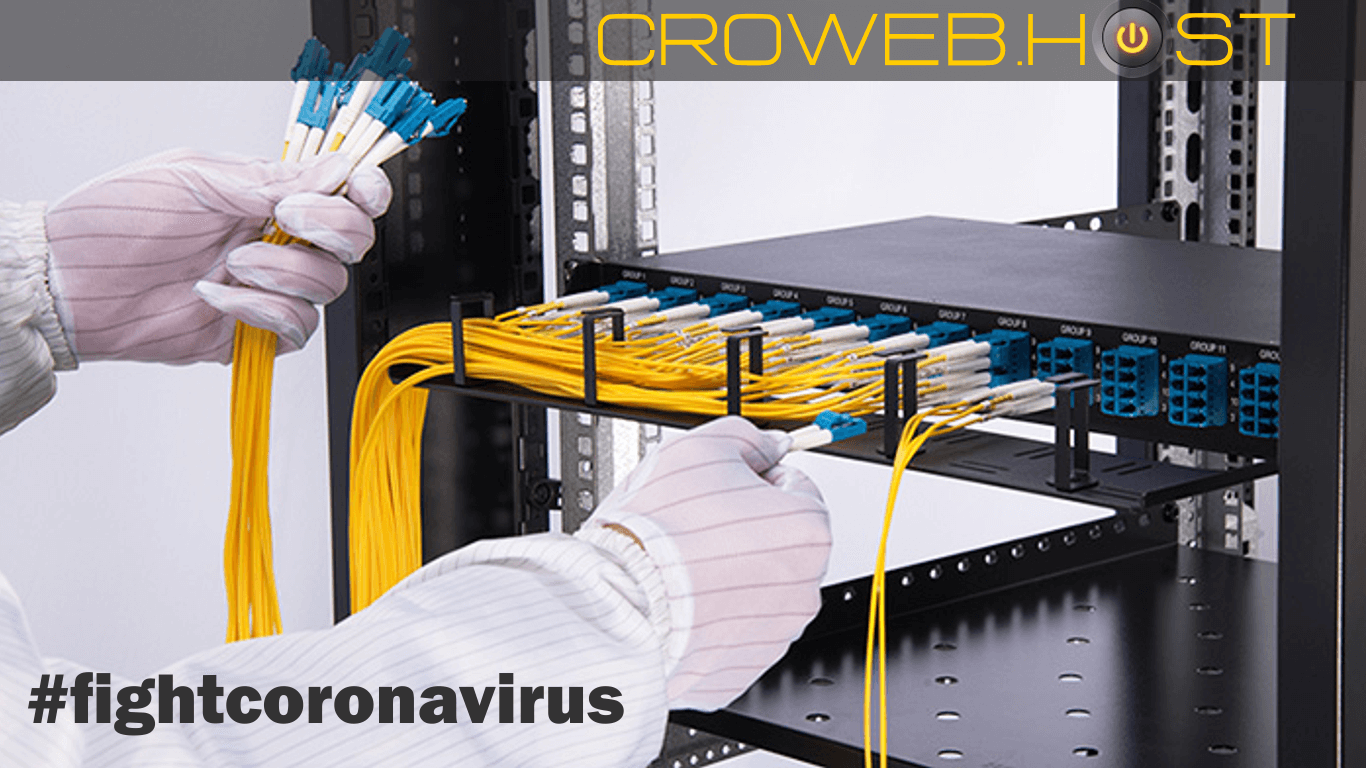 March 17, 2020
Our Main Office and Data Center are still open and upholding all safety standards recommended by the Croatian Government.
At CROWEB.HOST we take the risk of COVID-19/ Coronavirus very seriously, that's why we are taking all the necessary precautions to reduce the risk of spreading the virus.
As a way to actively do our part, we have asked all our non-technical employees, including sales reps, to work remotely. For our Data Center employees, we have detailed an interval work schedule that will help us meet all our customers' deadlines while ensuring the utmost safety for all of us.
We understand that lead times may be a concern. We would like to assure you that the lead times of configuring, testing and provisioning all equipment currently in our Data Center (servers, storage, network equipment...) will remain the same.
If you have any questions about our safety measures, lead times or solutions we can put in place for you, please call your sales rep. We are all available through Live Chat, Email or Phone.
We are closely monitoring all developments of the situation around the world, and we will update you if anything changes in our daily operations. Rest assured, business is being carried as usual and we are here to support you to the best of our ability.
All of us at CROWEB.HOST hope you and your loved ones are doing well.
The CROWEB.HOST team